How you can grow roses in your garden?
A rose is beautiful and it is the «Queen of flowers». If you be able plant the roses rightly and give them necessary nursing you can take pleasure in your rosarium many years. You must learn to abide some simple rules for growing this beautiful culture. You must learn five principal subjects: planting, adding fertilizer, watering, pruning and covering to winter.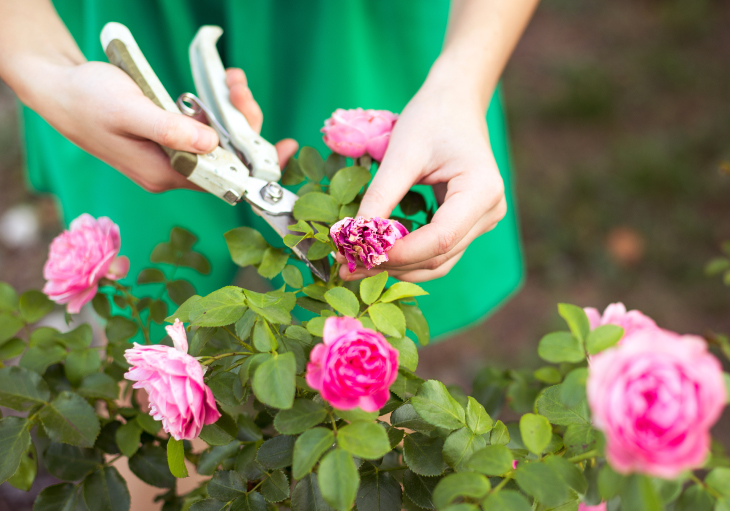 Planting of roses.
Very important condition for heavy blossoming of bush is place for planting. Roses like light and warm. So you must plant them in the good sunlit and reliably defended places. The best place is south and east-south side of your garden, because rose enjoy in morning and afternoon sunshine. Plait sorts of roses can grow up in the shade places only.
They recommend to bed out roses in spring. Beauty roses are sun loving plants. You may start planting roses as soon as ground will get warm, but buds have not opened yet. You risk if you plant your rose bushes in autumn, because ones cannot take roots before the first frost. And often roses are killed.
Before planting you must look at roots carefully. You must cut all damaged tissue up to live one. Keep other roots about 20 sm. Make shorter shoots on bush. Strong shoots keep with 5-6 buds; average ones keep with 3 buds; weak and wither shoots cut out. Planting hole for rose have to be wide and deep, then roots of bush will be spaciously after planting. It is very important to fill in place of graft by layer of soil about 6 sm. Abundantly water your bush, protection your sapling from bright sunshine by tent. Dig up shoots and take out tent when ground has got warm, and size of shoots comes 5 sm. Prepare ground beforehand. You must fertilize it by mineral and organic fertilizer. The manure is the best fertilize for roses. The first adding fertilizer by complex mineral fertilize must be very thorough, but it s not more 20 g for 1 bush. The excess will be very bad for roses.
You must prepare ground in autumn for spring planting. It is rather simply: dig big holes in the ground at a depth of 1,2 m and 0,5 m in diameter; fill up with branches and stones; put the blend of garden soil with fertilizer on top of the hole.
Add mineral fertilize. For autumn planting ready holes for bushes 1-1,5 month before. Cut out tops of shoots for stimulant growth of roses. They recommend to keep interval from 0,5 m to 1 m between roses bushes. But you must take into account varieties of sorts of rose bushes. Two-years age plants are the best sapling.
Interval between rose bushes may be till 1m. The distance from bush to bush is determined individually in accordance with the end in view.
Big bush roses are very beautiful in solitary planting (for example, it may be a lawn or another free small corner of your garden). In rosarium you have to keep to distance from 1 m to 1,5 m between the bushes. Miniature rose bushes you can plant like border (near path or around of flowered). Distance from bush to bush is 60 sm here.
The sorts of climb roses like "solitude" but you have to take into consideration these bushes quickly grow up. If you want you can create "the wall" from climb roses. This saplings you must plant in distance 2 m. Carry on the transplantation this roses in spring. Try don't damage the roots and small shoots.
Nursing about roses.
Nursing about roses is holing soil, adding fertilizer, watering, struggle opposed to illnesses and pests, pruning and forming of bush.
If you want your roses normally grow and will be full blossom, you must add fertilizer them. Roses will be very thanks for tamely adding fertilizer. The first adding has to carry on in spring before arrival of buds; the second one has to carry in the middle of summer for full blossom. Don't add fertilizer at the end of summer, and then you escape to arrival new shoots. This shoots don't ripen to winter. There are lots of complexes for adding fertilize now. You can choose right fertilize very simply. Don't overfeed roses bushes by big doze of fertilize, because there will be many leaves, not flowers. And plant can die. Don't forget to put in some fertilize under bushes early in spring every 2 years.
Water your roses 1 time a week very abundantly. Do it early in the morning or in the evening.
You must hoe up soil around bush. The soil must not be compressed around bush, because roots need fresh air permanently.
Prune roses every spring before awakening of buds. You must cut out weak and ill, old and dry shoots completely. Yet out shoots under graft, because your rose will degenerate for wild rose. You can do different kind of prune. It may be wear prune (keep 10 buds on shoot). It may be moderate prune (5 buds) or strong one (2-3 buds) Strong prune boring after bad wintering. Then your bush can rehabilitate quickly. Prune your roses with sharp instrument in order prevent mechanical damage of bark. Fill with some putty wound.
You must think about the covering of the rose bushes before cold weather. Luckily, there are some uncover sorts of roses. They can wintering on fresh air. But these roses can die in frosty winter. You must take optimal time for covering of the roses. It is may be at the beginning of November.
Don't cover your bush very mush. It is wrong! The bushes are able die, because they rot. Don't cover the roses by boughs or branches. Cover your roses with loose soil. Do the heap (no more 15 sm). Mush better take some peat. Put out the covering at the end of March.
Add fertilize in a week.
Spay your roses 3-4 times in a season. It is boring for struggle opposite fungous illness, rust or pest. There are many special medicines for it.
There are many sorts of roses today. For decorative planting of trees and shrubs you can grow park or garden kinds roses. Park roses you cannot cover or the cover may be very easy. The roses may be prickly or not. It is very interesting! There are more than 200 sorts of park roses. Garden roses are grown select only. They are very gentle and call for defense in winter. Ask your lovely sort of roses in specialized shops. Rose is very aromatic flower. You can fill your rosarium by honorable bushes of roses; you will feast your eyes on continuous blossoming roses. They may be climb and miniature. You can breathe in fragrance of the most beautiful flowers on the Earth.